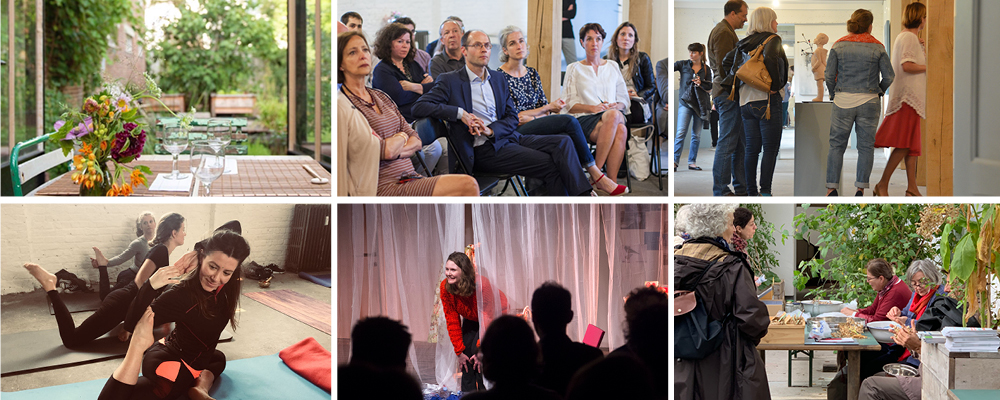 YOUR EVENT AT L'USINE

l'USINE est un espace polyvalent qui accueille des artistes et artisans en résidences permanente ainsi qu'une série d'activités et d'événements liés à l'art, culture and sustainable development. It wishes to allow sustainable and meaningful projects to be developed within it, while supporting the personal development of its partners. She is committed to provide access to calm and inspiring creative spaces, in town, offering comfort to creators and also participating in the mix of activities in our city which is dear to us. l'USINE is a private project and the non-profit organization organising the events hasn't applied for subsidies, In this context, this is made possible by a balance to be found between 2 types of space disposal :
to subsidized companies or non-profit organizations, at classic rates

to non-subsidized non-profit organizations, at "softer" prices
Chaque année, l'USINE ouvre ses portes dans le cadre d'événements ouverts au public, qu'elle organise directement, comme le parcours d'artistes, les rencontres Good Food, un marché de créateurs.
Elle accueille également des privés, associations ou entreprises qui souhaitent bénéficier de son cadre calme, verdoyant et inspirant pour y proposer leurs propres événements.
Pour le bon respect de notre voisinage et du travail de nos artistes résidant, les espaces ne peuvent être loués pour des événements ayant lieu jusque tard en soirée avec musique amplifiée.
N'hésitez pas à nous contacter pour en savoir plus sur les conditions d'utilisation de nos espaces et les services pouvant être fournis. Nous vous remettrons un devis détaillé.
La salle d'exposition et les guichets ainsi que la serre et notre jardin peuvent être mis à disposition à l'heure, à la (demi-) journée ou à la semaine selon vos besoins.