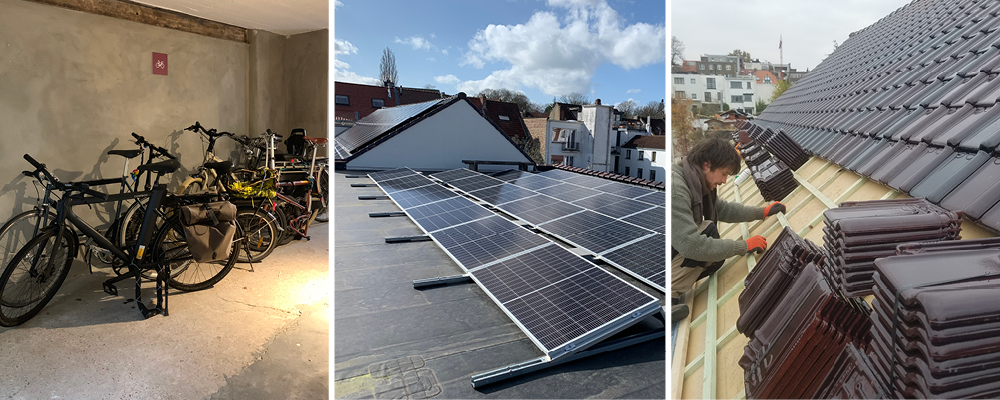 ECOLOGICAL FOOTPRINT
Since 2015 we are constantly investing in sustainable development to minimize our carbon footprint and promote biodiversity in the city.
SOLAR ENERGY
The installation of 90 solar panels with a capacity of 29KWp significantly reduced our external energy consumption. Indeed, 80% of l'USINE's needs are covered by its production although this energy is not always self-consumed. In that case, it is reinjected into the network and thus participates in the production of green energy in Brussels.
INSULATION
The flat roofs are insulated with 12cm of polyurethane and the inclined roofs with 22cm of cellulose.
30% of the south facade and 80% of the north facade are insulated by 16cm of expanded polystyrene.
The 110 old frames have been replaced by industrial "steel look frames " with double glazing.
A greenhouse, aside to a part of the south facade, acts as an insulator. By capturing solar energy, the space is heated and thus reduces losses of the adjoining space.
RAINWATER RECOVERY
Rainwater is collected and stored in a tank of 10m3. This water is used to water the gardens and supply the toilets.
RECYCLING AND RECYCLING
Most of the waste created at l'USINE is recycled. Organic waste is composted and transformed into fertile soil for the vegetable garden.
Wood waste from development work is recycled into a new function. The furniture is mostly second hand.

MOBILITY
A covered and secured bicycle parking of 10 places is at visitors disposable inside the building. Three arches on the street front, installed by Uccle municipality, also allow bicycles to be hung.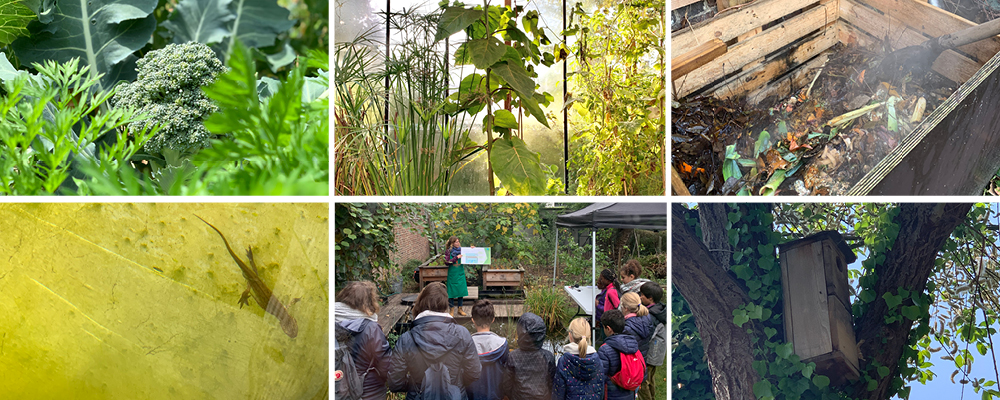 POTAGER ET BIODIVERSITÉ
A garden in town, as small as it is, is an opportunity to create an environment favorable to the development of biodiversity. l'USINE has a garden area of 7 ares, some basic principles are applied to promote diversity.
INDIGENOUS PLANTS
The trees and plants which were naturally found on the site and which did not threaten the preservation of the building have been preserved
WILD NATURE
The garden located at the north of the building, with an area of ​​120m2, is very little maintained to preserve the natural flora and fauna. We grow mushrooms there and have set up a compost.
In 2017, 18 species of birds have been observed in this islet.

DIVERSITY OF HABITATS
To promote biodiversity we have created different types of habitats and shelters. The north garden, the aquaponics system pond, a small orchard, a bioclimatic greenhouse, a vegetable garden, a compost, piles of wood, nesting boxes, an insect hotel, and we have also installed beehives.

PERMACULTURE
The vegetable garden has been designed and is cultivated according to some of the principles of permaculture:
No chemical input is used.

The soil is very little worked in order to preserve micro organic life.

The plots are covered with straw to conserve humidity and limit watering needs.

Cultivation associations are practiced to promote the respective development of varieties.. (fight against diseases, ward off unwanted people, promote growth, ...)

We operate a crop rotation which will in particular allow to maintain good soil fertility, improve its structure and limit the growth of "unwanted" and diseases.

3 chicken keep some small parasites away and produce a little more of 700 eggs a year.