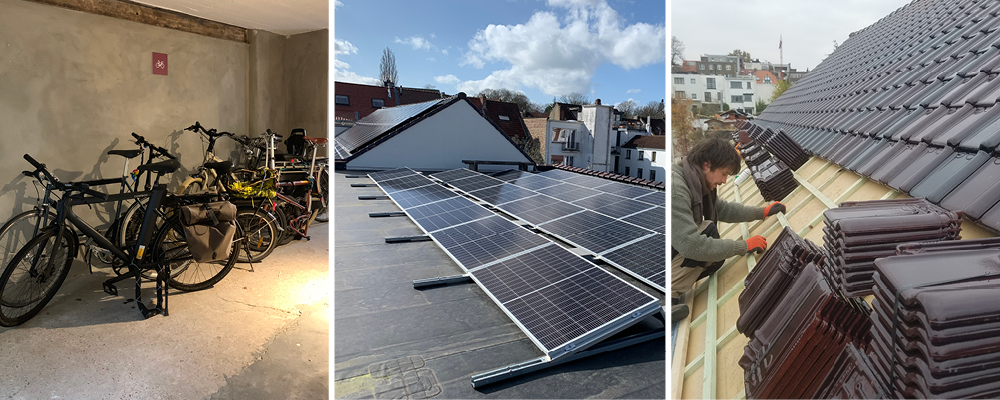 ECOLOGICAL FOOTPRINT
Since 2015 we are constantly investing in sustainable development to minimize our carbon footprint and promote biodiversity in the city.
SOLAR ENERGY
The installation of 90 panneaux solaires d'une capacité de 29KWp a considérablement réduit notre consommation d'énergie extérieure. En effet, 80% des besoins de l'USINE sont couverts par sa production bien que cette énergie ne soit pas toujours auto-consommée. Dans ce cas, elle est réinjectée dans le réseau et participe ainsi à la production d'énergie verte bruxelloise.
ISOLATION

Les toits plats sont isolés avec 12cm de polyuréthane et les toitures inclinées par 22cm de cellulose.
30% de la façade sud et 80% de la façade nord sont isolées par 16cm de polystyrène expansé.
Les 110 anciens châssis ont été remplacés par des châssis de type industriel "steel-look'' munis de doubles vitrages.
Une serre, adossée à une partie de la façade sud, agit comme un isolant. En captant l'énergie solaire, l'espace est chauffé et réduit ainsi les déperditions depuis l'espace attenant.
RAINWATER RECOVERY
Rainwater is collected and stored in a tank of 10m3. This water is used to water the gardens and supply the toilets.
RECYCLING AND RECYCLING
Most of the waste created at l'USINE is recycled. Organic waste is composted and transformed into fertile soil for the vegetable garden.
Wood waste from development work is recycled into a new function. The furniture is mostly second hand.

MOBILITY
A covered and secured bicycle parking of 10 places is at visitors disposable inside the building. Three arches on the street front, installed by Uccle municipality, also allow bicycles to be hung.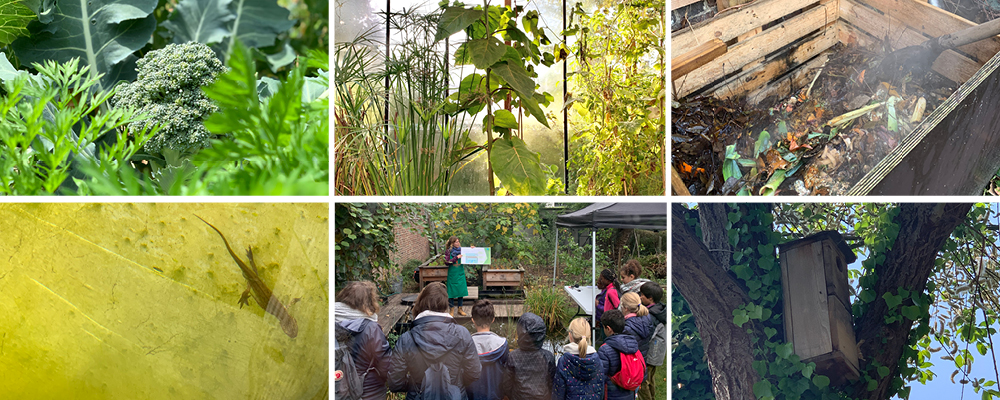 MARKET GARDENING AND BIODIVERSITY
A garden in town, as small as it is, is an opportunity to create an environment favorable to the development of biodiversity. l'USINE has a garden area of 7 ares, some basic principles are applied to promote diversity.
INDIGENOUS PLANTS
The trees and plants which were naturally found on the site and which did not threaten the preservation of the building have been preserved
WILD NATURE
The garden located at the north of the building, with an area of ​​120m2, is very little maintained to preserve the natural flora and fauna. We grow mushrooms there and have set up a compost.
In 2017, 18 species of birds have been observed in this islet.

DIVERSITY OF HABITATS
To promote biodiversity we have created different types of habitats and shelters. The north garden, the aquaponics system pond, a small orchard, a bioclimatic greenhouse, a vegetable garden, a compost, piles of wood, nesting boxes, an insect hotel, and we have also installed beehives.

PERMACULTURE
The vegetable garden has been designed and is cultivated according to some of the principles of permaculture:
No chemical input is used.

The soil is very little worked in order to preserve micro organic life.

The plots are covered with straw to conserve humidity and limit watering needs.

Cultivation associations are practiced to promote the respective development of varieties.. (fight against diseases, ward off unwanted people, promote growth, ...)

We operate a crop rotation which will in particular allow to maintain good soil fertility, improve its structure and limit the growth of "unwanted" and diseases.

3 chicken keep some small parasites away and produce a little more of 700 eggs a year.